This recipe was on The Neelys on Food Network last spring, and as soon as I saw it I think I instantly ran out and bought the ingredients to make this. I have actually made this a couple of times, but was excited to try it out again since this is a great Fall time dessert. It works best with really tart apples like Granny Smiths (which are my favorite!), because the tart apples work really well with the sweet butterscotch chips. I'll warn you this is addicting and I totally could not stop eating it. Definitely do not make if you are on a diet...ha!
Because I am attempting to go gluten free (about 75% of the time it seems), I totally wanted to try out gluten free flour. It worked really well and I totally did not notice a difference. I ended up using this baking mix and although it was about $5, and was the cheapest flour I could find, you really don't use that much and it was totally worth having something so tasty that was also gluten free.
Butterscotch Apple Crisp
Servings - 8
Recipe from
The Neelys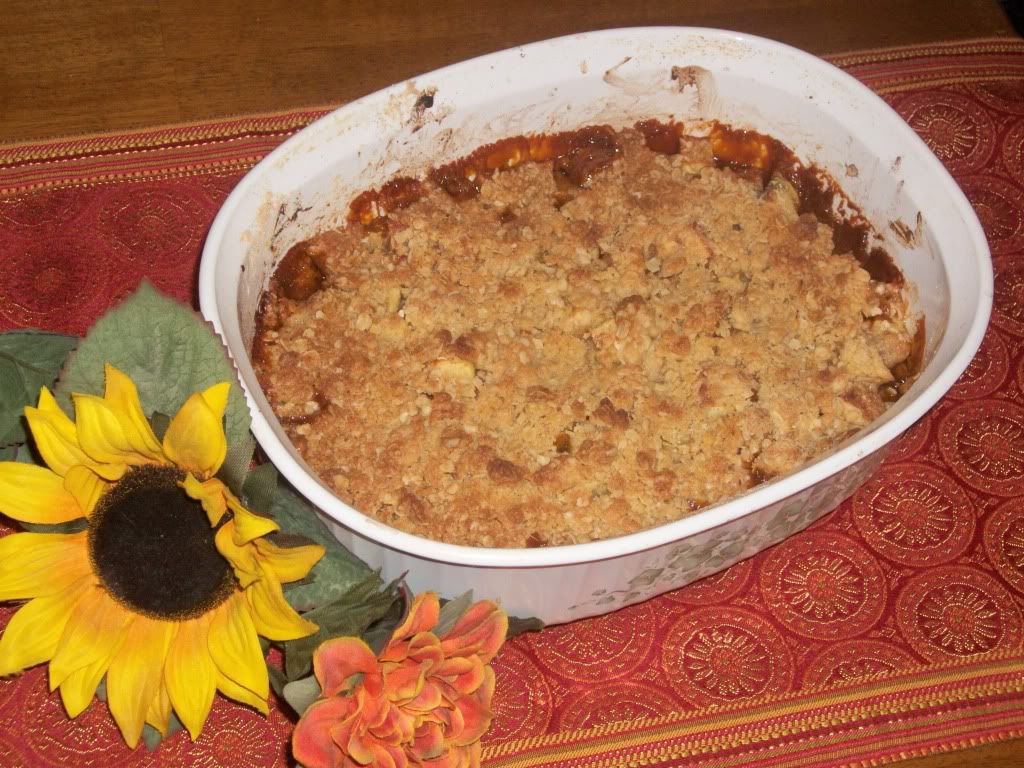 **Please note that I halved the recipe, so if you make the full recipe your dish will be much fuller than mine above.
Ingredients:
Filling:
5 Granny Smith apples (about 2 pounds), peeled and roughly chopped
1 (11-ounce) bag butterscotch chips
1/4 cup light brown sugar
1/4 cup all-purpose flour (I used Gluten Free flour)
1/2 teaspoon ground cinnamon
1/4 teaspoon ground allspice
1 lemon, juiced
3 tablespoons unsalted butter, cubed, plus more for greasing
Topping:
3/4 cup all-purpose flour
1/4 cup light brown sugar
1/2 cup quick oats
Pinch kosher salt
1/2 cup butter
3/4 cup pecans, chopped (optional - I didn't include these this time)

Directions:
Preheat the oven to 350 degrees F. Butter a 2-quart baking dish.
For the filling: Toss the apples, butterscotch chips, brown sugar, flour, cinnamon, allspice, and lemon juice together in a large bowl. Add to the buttered baking dish and dot with butter.
For the topping: In a separate bowl, combine the flour, sugar, oats, and salt. Blend the butter into the mixture until it forms pea size lumps. Stir in the pecans and sprinkle over the filling.
Bake until the apples are tender and butterscotch is bubbling, about 45 minutes. Let cool for 5 minutes before serving. Plate with a scoop of butter pecan ice cream on top.