This week on The Pioneer Woman's show on the Food Network she made sloppy joes. I had been thinking lately that sloppy joes seemed like an easy dinner to make one night after a busy day at work, and had been thinking about picking up some Manwich, but after watching The Pioneer Woman make them from scratch I thought I can do that! And I had almost all of the ingredients on hand, just needed to pick up some ground turkey and a bell pepper.
What's great about this recipe is that you can season it to taste. I used a little more
Worcestershire Sauce to give it a little more tang. It took a little more time than Manwich because it needed to simmer on the stove for about 15 mins, but it gave me time to clean up the kitchen before dinner was even done. That is kind of my goal, to have a clean kitchen before dinner is finished cooking so that there is no clean up after dinner. Don't you just hate looking at a messy kitchen right after you had enjoyed a great meal. What a buzz kill! :)
I also fixed some steak fries. I just cut up some potatoes (leaving the peel on) into fry like sticks, drizzled with a little olive oil, and then sprinkled some steak seasoning, salt and pepper and baked at 400 degrees until crispy. This took like 30 - 40 mins. I didn't really time it, just kept an eye on it until they looked like fries.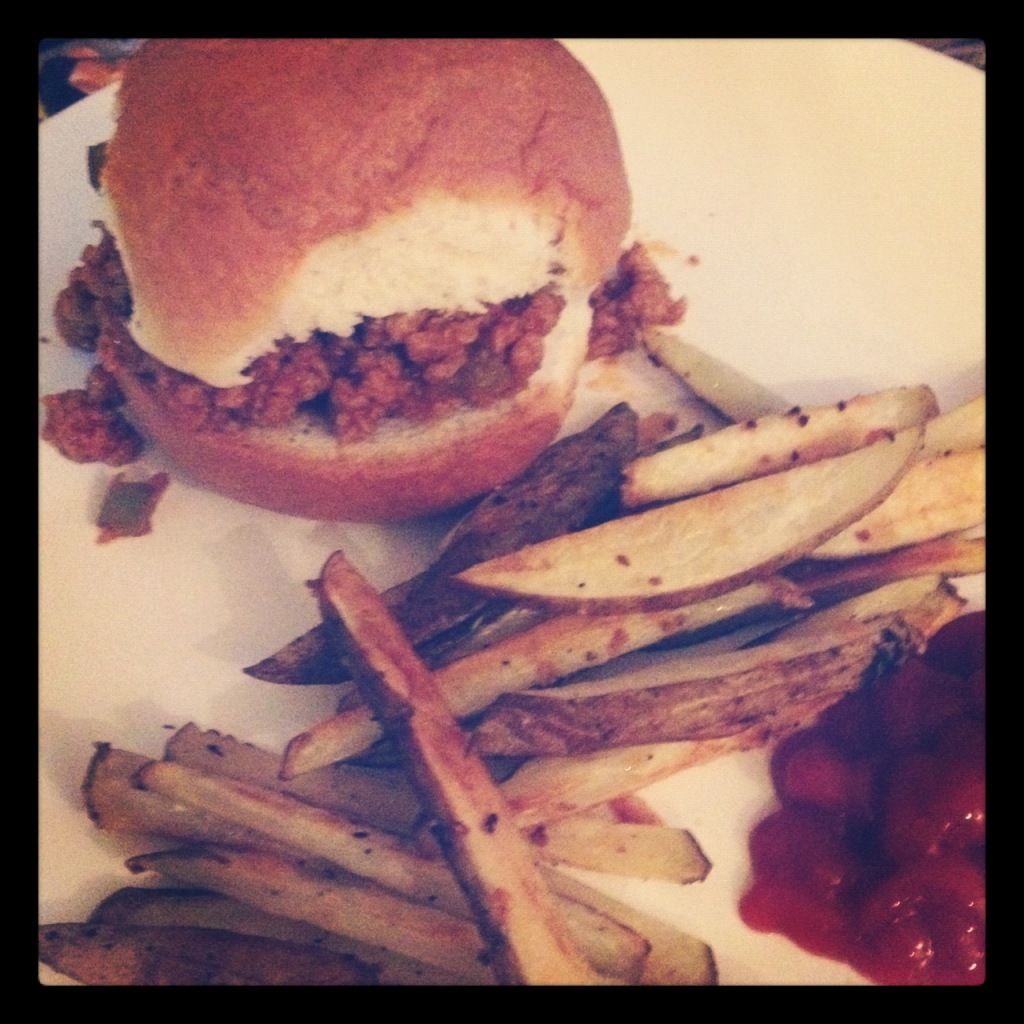 Pioneer Woman's Sloppy Joes
Original recipe
here
Makes about 3-4 medium sized sandwiches
Ingredients:
1 pound

Ground Beef or Turkey (I used turkey)

1 whole

Large Green Bell Pepper, Diced

2 cloves

Garlic, Minced

1 cup

Ketchup

1/2 cup

Water

1 Heaping Tablespoon

Brown Sugar

1 teaspoon

Chili Powder

1/2 teaspoon

Dry Mustard

Worcestershire Sauce, To Taste (I used about 4 or 5 shakes)

Tabasco Sauce, To Taste (I used about 2 or 3 shakes)

Salt, To Taste

Freshly Ground Black Pepper, To Taste

Kaiser Rolls
Directions:
Add ground beef/turkey to a dutch oven over medium high heat. Cook until brown. Drain most of the fat and discard.

Add green pepper and garlic. Cook for a few minutes, or until vegetables begin to get soft.

Add ketchup, brown sugar, chili pepper, dry mustard, and water. Stir to combine and simmer for 15 minutes, adding salt and pepper to taste. Also add Worcestershire and Tabasco if desired. Taste and adjust seasonings as needed.

Spoon meat mixture over the rolls and enjoy!