Hi everyone! Hope you all had a great weekend and are getting ready for some holiday fun! Also hope all those in Central Ohio survived the storms. I know a lot of people are still out of power, and luckily I only lost mine for a few days. Still caused me to lose some food in my fridge, but sometimes you just need to clean out your fridge and start over right!!! That's what I keep telling myself anyway...ha!
As you can see with a few of my last recipe posts, I have a theme going with yet another caprese meal. Summertime to me means using lots of fresh fruits and vegetables, especially a lot of tomatoes and basil, so you are going to see a lot of recipes using these ingredients here in the next couple of months.
This recipe is great because it feels very summery with the tomatoes and basil, and the sauce actually seems a little lighter than your traditional marinara sauce, but you still get that comfort food that comes with lasagna. You could probably include any variety of vegetables in this recipe and it would still come out great. I bet it would be awesome with some summer squash and zucchini.
We are off tonight to enjoy some
Red, White and Boom
, and hopefully some fun food trucks! I'll be sure to share any fun food finds in the next couple of days!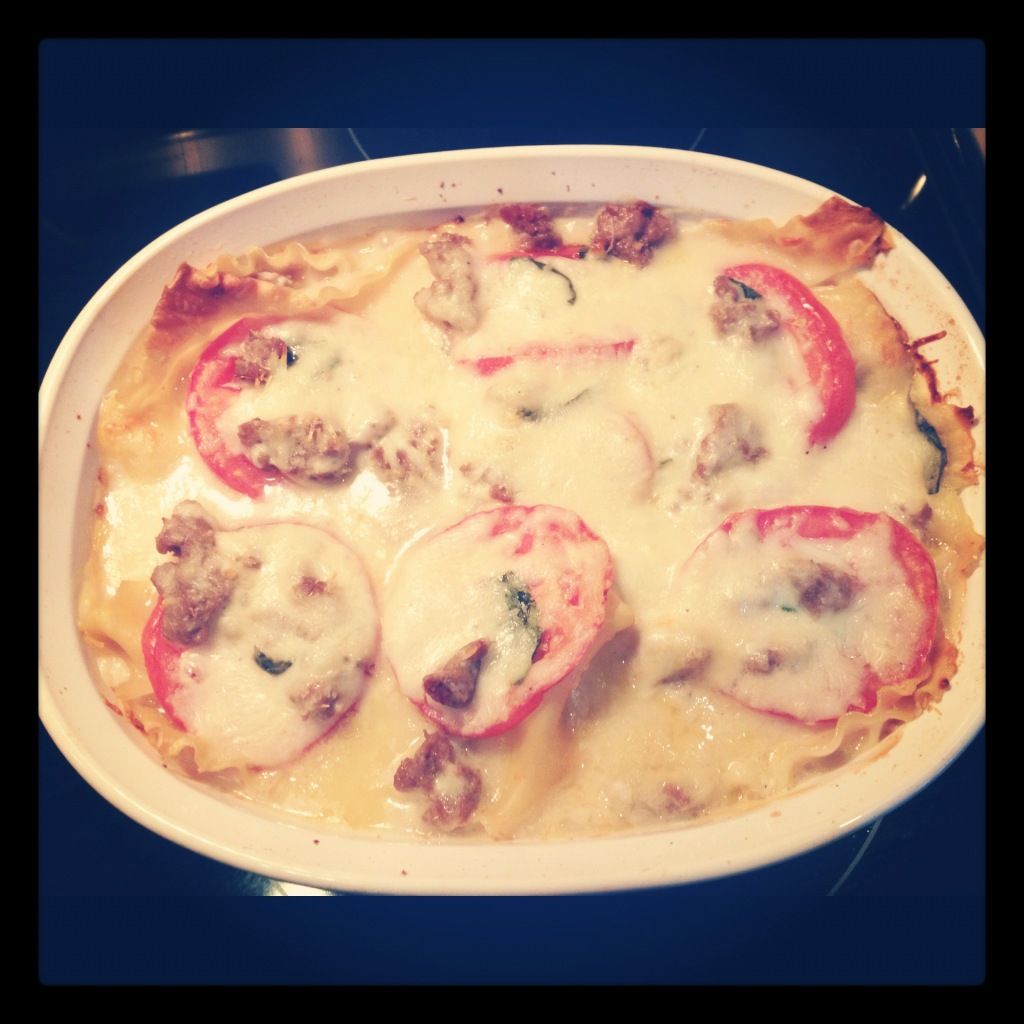 Caprese Lasagna
Ingredients:
-- 1 box of lasagna noodles (I believed I used 9, but I cooked a few extras in case they broke)
-- Extra virgin olive oil
-- 3/4lb sweet turkey italian sausage
-- 2 tablespoons butter
-- 2 garlic cloves, minced
-- 3 tablespoons flour
-- 1 1/2 cups chicken broth
-- 1 1/2 cups skim milk (I was trying to cut fat, but I think a higher fat content like 2% would make a more creamy sauce)
-- Salt & pepper to taste
-- 4 tomatoes, thinly sliced
-- 8 basil leaves
--1 1/2 cups shredded mozzarella cheese
Directions:
Preheat oven to 375 degrees. Cook lasagna noodles in a very large pot of salted, boiling water until just under al dente. Drain and return to the pot. Add a splash of extra virgin olive oil and gently stir to coat the noodles.
Meanwhile, heat a large skillet over medium heat. Squeeze sausage out of its casing and cook while breaking up until no longer pink. Remove to a plate and set aside.
In the same skillet, melt butter, then add garlic and cook until fragrant, about 30 seconds. Sprinkle in flour, then whisk to combine and cook for 30 more seconds.
Slowly pour in chicken broth a few tablespoons at a time, whisking to break up any lumps. Continue pouring and whisking until mixture is smooth. Pour in milk and whisk to combine. Season with salt & pepper.
Switch to a spatula and stir sauce until thick and bubbly, about 5 minutes. Pour into a bowl with a spout, and set aside.
Spray the bottom and sides of a 9×13″ baking dish with non-stick spray. Pour 1/4 cup sauce into the bottom, then spread evenly with a spatula. Place 3 lasagna noodles in the bottom, then top with 1/3 of the tomatoes, 1/3 of the basil, 1/3 of the cooked turkey sausage, 1/2 cup mozzarella cheese, and 1/3 of the remaining sauce. Repeat 2 more times, for a total of three layers.
Cover baking dish with foil and bake for 25 minutes. Remove foil and bake for 15 more minutes, or until cheese is golden brown and sauce is bubbly. Let sit 5 minutes before slicing and serving.