I have been craving chili lately, and with the temps dipping into the 60's/low 70's this weekend, I thought it was somewhat appropriate to make.
I also came across
this recipe
and was intrigued by the thought of sweet and spicy chili. I never really thought about sweetening up chili, but OMG this was amazing. Probably my favorite chili recipe so far. I am not a huge lover of chili, and really only get a craving for it about once or twice a year, but I already can't wait to make this again, and I think this will become one of my staple fall/winter recipes.
I tweaked this recipe a little just based on my tastes. I don't like a lot of beans, so I only used one can, and I eliminated the onions based on a food allergy. I also used ground chicken since I found a great deal at the store, but you could use ground turkey or beef. I also cut back a little on the cumin because I a not a huge fan of that spice.
To round out my meal, I made some boxed corn bread and added 1 large jalapeno finely diced to give it a little kick.
The flavors in this chili are so rich and kind of reminds me of a smokey BBQ sauce with the addition of the brown sugar. I made this in a dutch oven on the stove top, but it would be really simple to throw everything into a crock pot first thing in the morning and have a great smelling house and tastey dinner when you return home from work. It's a recipe you should definitly try!!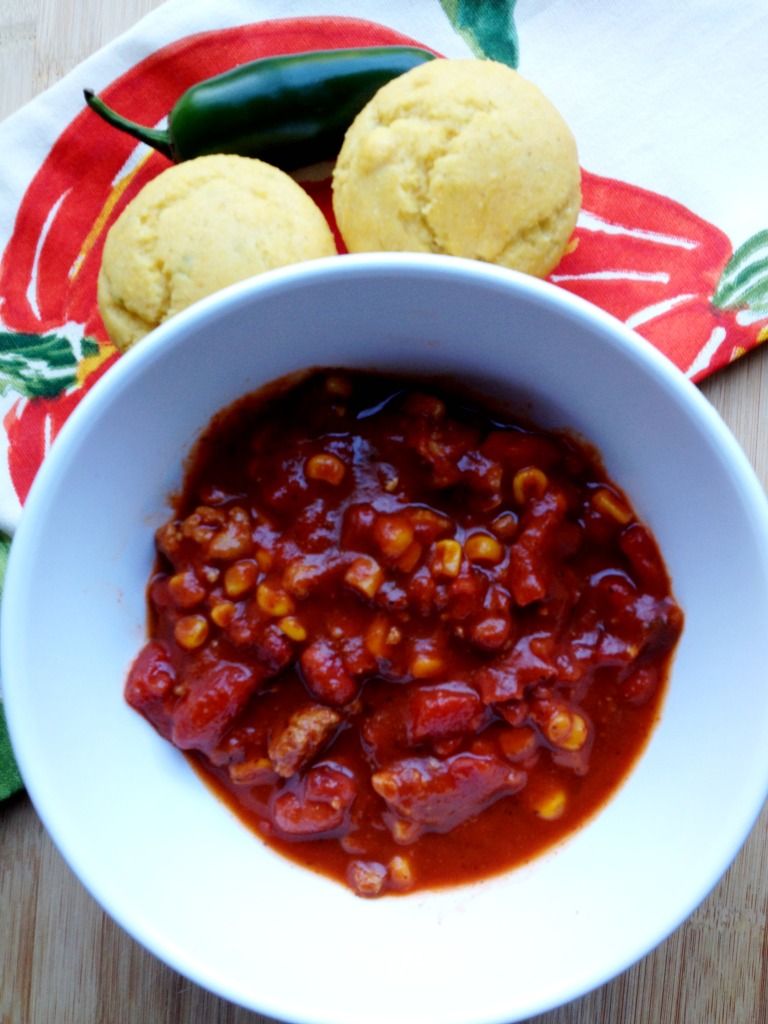 Sweet and Spicy Chili
Adapted from
Lolly's Sweet & Savory Treats
Makes about 6 large bowls
1 lb lean ground Chicken, Beef or Turkey
3 cloves of fresh garlic, minced
1-29oz can Tomato Sauce
1-15 oz can diced tomatoes with Green Chiles
1-15oz oz can Diced Tomatoes
1-15oz can Whole Kernel Corn, drained
1-15 oz can Light Red Kidney Beans, drained and rinsed
2 ¼ cups Water
2 tsp Kosher Salt
1 ½ tsp Black Pepper
5 Tbsp Brown Sugar
¼ cup White Sugar
3 Tbsp Chili Powder
½ Tbsp Cumin
2 Bay Leaves
In a large pot, brown your meat and then drain. I also threw in some garlic with my meat as well half way through the cooking process. Then add in the tomato sauce, diced tomatoes, beans, corn, water and the rest of the seasonings. Bring to a boil. Turn heat down to low so it can a simmer. Simmer for 3 hours, stirring about every 20 minutes. Remove the bay leaves and serve.
I had some cheese and tortilla chips on hand to serve as well, but the chili was so good as I was tasting it throughout the day that I totally forgot to add them as well.
In addition to making chili and making the house smell oh so good...I also worked on a little sewing project with my Mom, which I will share a little later this week, cleaned and organized a bit, and had dinner with some friends. Overall a great weekend! I am so excited about Fall being just around the corner and am aready in full Fall decorating mode. Am looking to pick up some room diffusers in some fun fall scents and making everything smell all pumpkin and spice!
Hope you had a great weekend and check out more weekend updates over at
Sami's Shenanigans