Lemon Risotto is the most amazing thing in the world. Ok, so maybe not the most amazing thing, but it's pretty darn close. I have been wanting to try risotto for a long time, but was a little nervous making it. When I came across this recipe in my cookbook Giada's Kitchen, I just had to make it. You can also find it online
here
, although it's a little different in the book. The recipe I use is from the book and I have halved it which gives me 2-3 side dish sized servings.
What I loved most about this is that it is very creamy, and has a little bit of a zing to it from the lemon juice. I have found this is really good with steak and a glass of cold white wine. This recipe includes some wine, but only like 1/4 of a cup, so I would recommend getting a bottle of something you really like, and then have a glass (or two) with dinner.
Lemon Risotto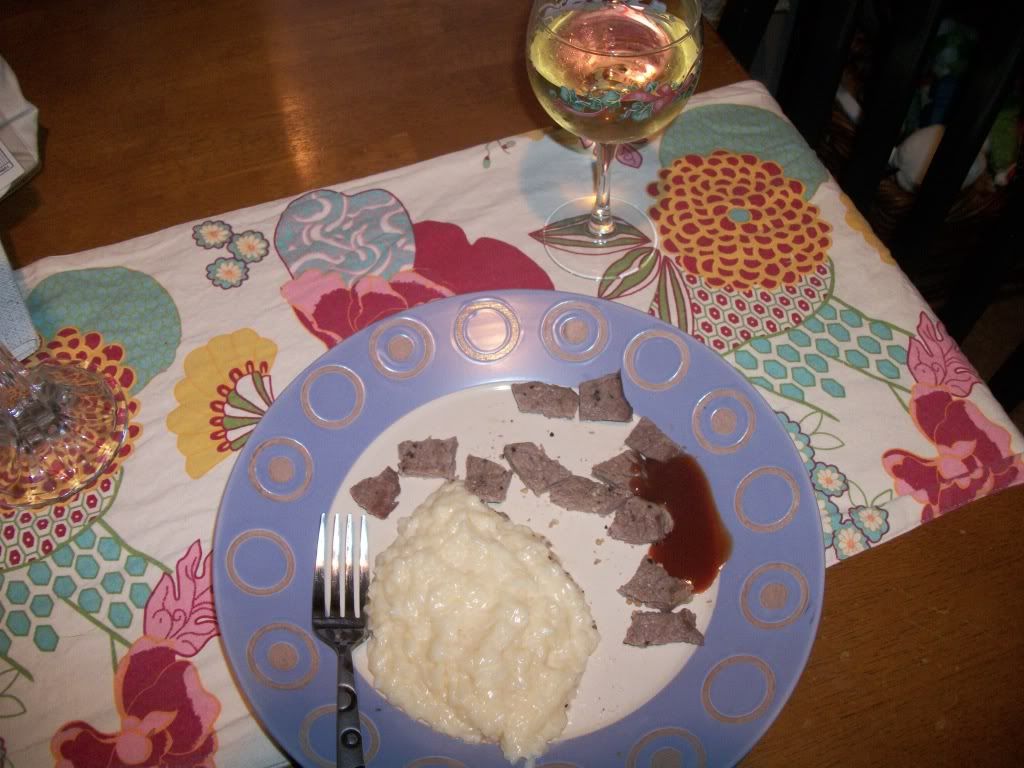 Yes, I understand my Lemon Risotto is more than half the portion size of my steak, but that's because I love it so much! Also, it may look very bland in this picture, but it is shockingly rich, creamy and so tastey!
Ingredients:
2 cups low-sodium chicken broth
1/4 cup lemon juice
1.5 tablespoons butter, plus 1 tablespoon
1 large shallot, diced
3/4 cup Arborio rice
1/4 cup dry white wine
1.4 cup grated Parmesan
1 large tablespoon mascarpone cheese
1/4 teaspoon kosher salt
1/4 teaspoon freshly ground black pepper

Directions:
In a medium saucepan bring the broth and 1/4 cup lemon juice to a simmer. Cover and keep hot over low heat.
In a medium, heavy saucepan, melt 1.5 tablespoons of the butter over medium heat. Add the shallot and saute until tender but not brown, about 3 minutes. Add the rice and stir to coat with the butter. Add the wine and simmer until the wine has almost completely evaporated, about 3 minutes. Add 1/4 cup of the simmering broth and stir until almost completely absorbed, about 2 minutes.
Continue cooking the rice, adding the broth 1/4 cup at a time, stirring constantly and allowing each addition of the broth to absorb before adding the next, until the rice is tender but still firm to the bite and the mixture is creamy. I usually try to add 1/4 cup of broth about every 2 mins for a total of 20 minutes. You want to keep your heat a little below medium and don't use too large of a pot or else it will cook too fast and it then you will have crunchy risotto. If you cook too long it will be mushy, so try and keep it within the 20 minutes.
Remove from the heat. Stir in the remaining tablespoon of butter, 1/4 cup of Parmesan cheese, mascarpone cheese and the salt and pepper.