I originally posted this recipe last fall, but am posting this again because it is just that delicious! Oh and I am updating with a new picture :)
I love fresh peaches, and when I came across this recipe over at
Iowa Girl Eats
, I just knew I had to try it. BTW: Iowa Girl Eats is one of my favorite food blogs. Lots of great recipes so check it out.
This was very sweet and almost like dessert chicken, if there ever was such a thing. The brown sugar melting into the peaches, and just a hint of asian flair with the soy sauce and rice vinegar. I think next time I might add in some snap peas and make it more like a stir fry, only with fruit. It's a great sweet and savory dish.
The recipe below makes two servings which I think is great portion sizes, but then again I don't typically eat large portions to begin with. I have actually doubled the recipe as well and it turned out just as great. I also had the leftovers for lunch the next day. It wasn't as pretty the next day because the peaches were a little brown due to the sauce soaking in and not being as fresh, but the flavors had more time to soak into the chicken and the rice so it was a little tastier the next day.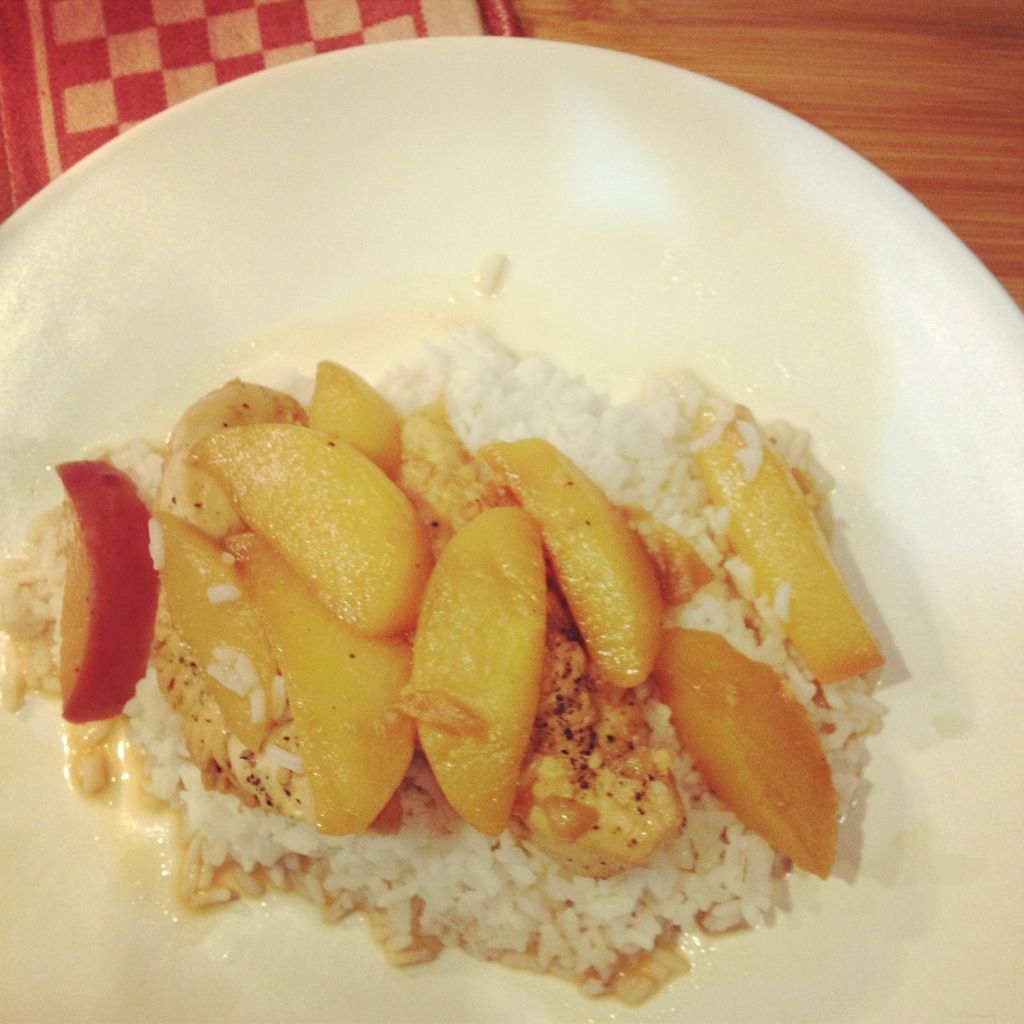 Peachy Chicken
Recipe from Iowa Girl Eats
Serves 2
Ingredients:
-- 2 Tablespoons brown sugar
-- 2 Tablespoons soy sauce
-- 2 Tablespoons rice vinegar
-- 1/4 cup fresh orange juice (although I cheated and used bottled orange juice)
-- 1/2 cup chicken broth
-- 2 teaspoons extra virgin olive oil
-- 2 chicken breasts, pounded to uniform thickness
-- salt & pepper
-- 1" knob fresh ginger, grated or finely minced (although I used ginger from my spice rack and just shook in a bunch until it looked good =)
-- 2 garlic cloves, grated or finely minced
-- 2 peaches, sliced thin
-- White or brown rice
-- Additional chicken stock and/or water to cook the brown rice
Directions:
1. Combine brown sugar, soy sauce, rice vinegar, orange juice and chicken broth in a bowl. Set aside.
2. Preheat oil in a large skillet over medium-high heat. Season chicken breasts with salt & pepper, then place in the hot skillet. Cook until golden brown on one side, then flip and cook until golden brown on the other side, ~4 minutes total. Chicken will not be cooked through. Remove to a plate and set aside.
3. Add ginger and garlic to the hot pan and stir constantly for no more than 10 seconds. Add the brown sugar/chicken broth mixture and sliced peaches to the pan, and increase heat to high. Cook for 6 minutes, stirring once or twice, until sauce has thickened and peaches start to become soft.
4. Nestle chicken back into the skillet, reduce heat to medium-low, place a lid on top and cook for 5 more minutes, or until chicken is cooked through. Serve on top of white or brown rice cooked in chicken broth.
Couple of things to note:
1. When smashing/pounding your chicken, I put my chicken on a rubber cutting board, covered with plastic wrap and then pounded with a small skillet. It's great to think of someone you aren't happy with and get your aggressions out on the chicken. Please make sure to remove anything from your counters that can bounce around, fall off, and hit your pup dog on the head. Just a warning!
2. The first time I made this I cooked the brown rice in half chicken broth/half water. I forgot to do this the second time and just cooked white rice in water. It was ok, but cooking in chicken broth makes it much more flavorful.
3. I did use dry ginger spice, although I think fresh ginger would be better. I just always have dry spices on hand, so it's easier.