I found this recipe on
Iowa Girl Eats
, and I love it! I have always wanted to make egg rolls, but was very intimidated by it. IGE's shows a step by step way of making the egg rolls and it really is pretty easy to make. Also, because they are baked and not fried, and because you use ground turkey instead of ground beef, they really aren't too bad for you. And the sauce, made up of soy sauce and ginger, is so tasty! You really need to try these out!
Baked Turkey Egg Rolls
Makes 8 egg rolls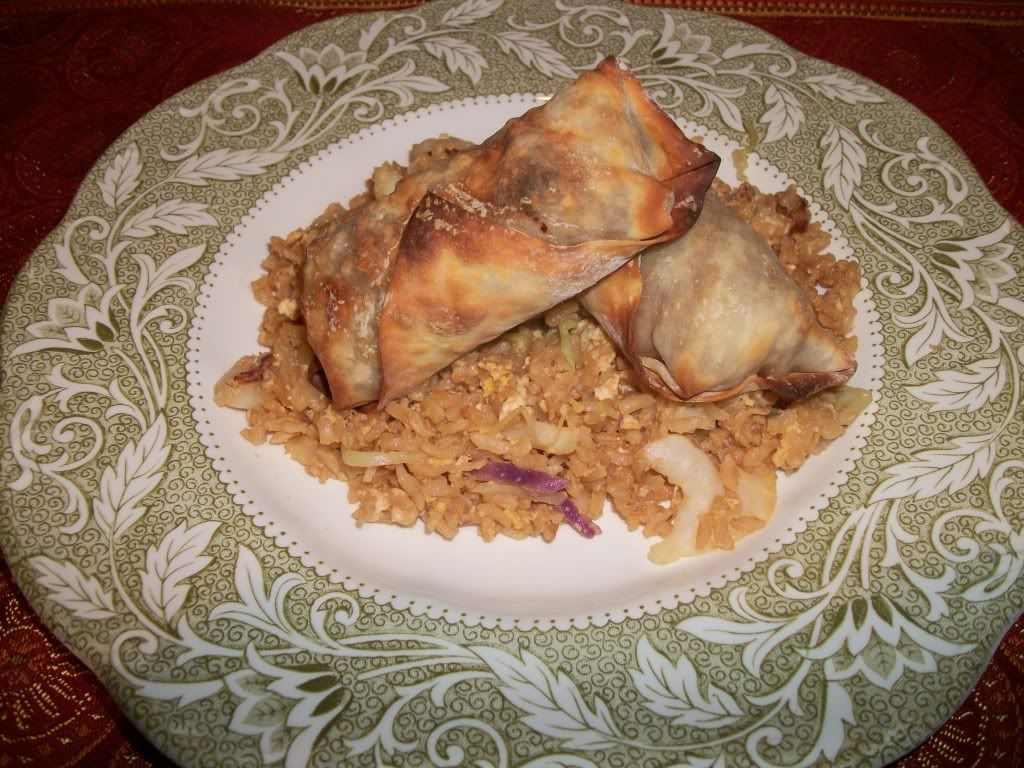 Ingredients:
-- 2 cups coleslaw mix
-- 2 teaspoons vegetable oil
-- 2 cloves garlic
-- 1/2 inch peeled, fresh ginger
-- 1/4 medium onion
-- 1/2 lb. ground turkey
-- 2-3 Tablespoons soy sauce
-- 1/4 teaspoon red chili pepper flakes
-- 8 egg roll wraps
**Please note I have tweaked these slightly, so if you want to see the original recipe, click on the link at the top of this post.
Directions:
1. Place coleslaw mix in a microwavable bowl and microwave for 3 minutes.
2. Add garlic & ginger to food processor and chop until fine. Add onion and chop until small. Move mixture to skillet over medium heat and sauté in 2 teaspoons oil for 2-3 minutes. Be careful not to burn garlic.
3. Add ground turkey to skillet and cook until no longer pink. Drain turkey/onion/garlic mixture and return to skillet. Add cooked cabbage and celery, soy sauce and red chili pepper flakes. Stir until combined and allow to cool.
4. Heat the oven to 400 degrees, spray a cookie sheet with non-stick spray and get out a small cup of water.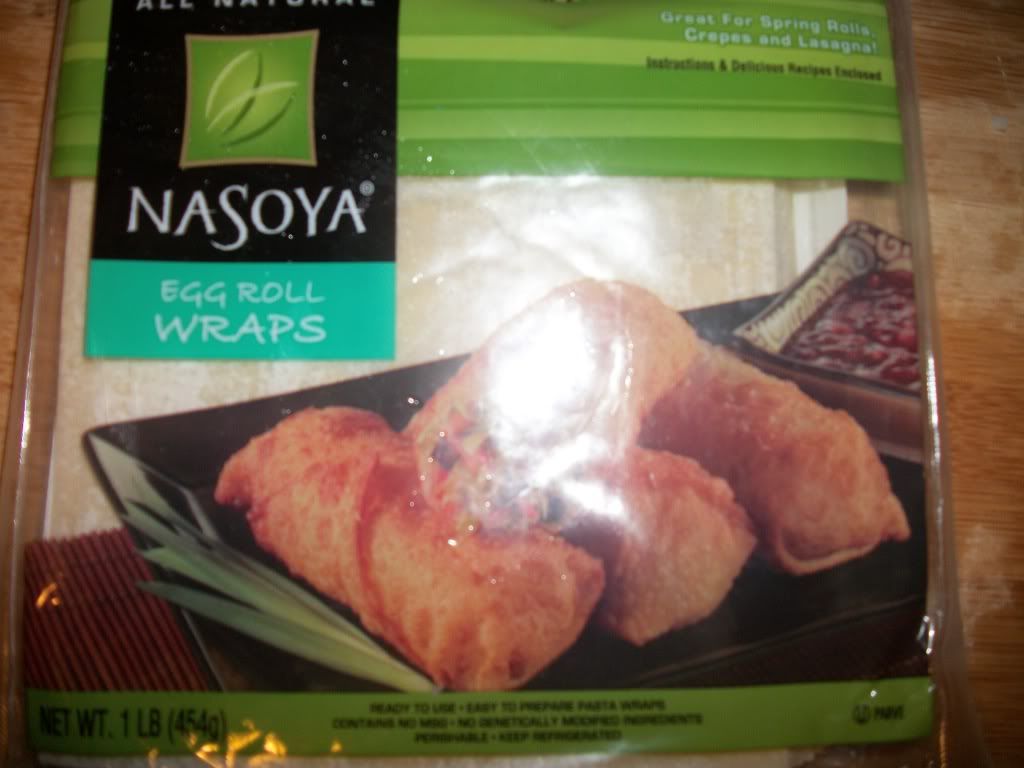 I used these egg roll wrappers and found them in the Produce section, next to the tofu.
5. Lay egg roll wrapper on a flat surface so it's in the shape of a diamond. Add about 3 tablespoons worth of turkey filling.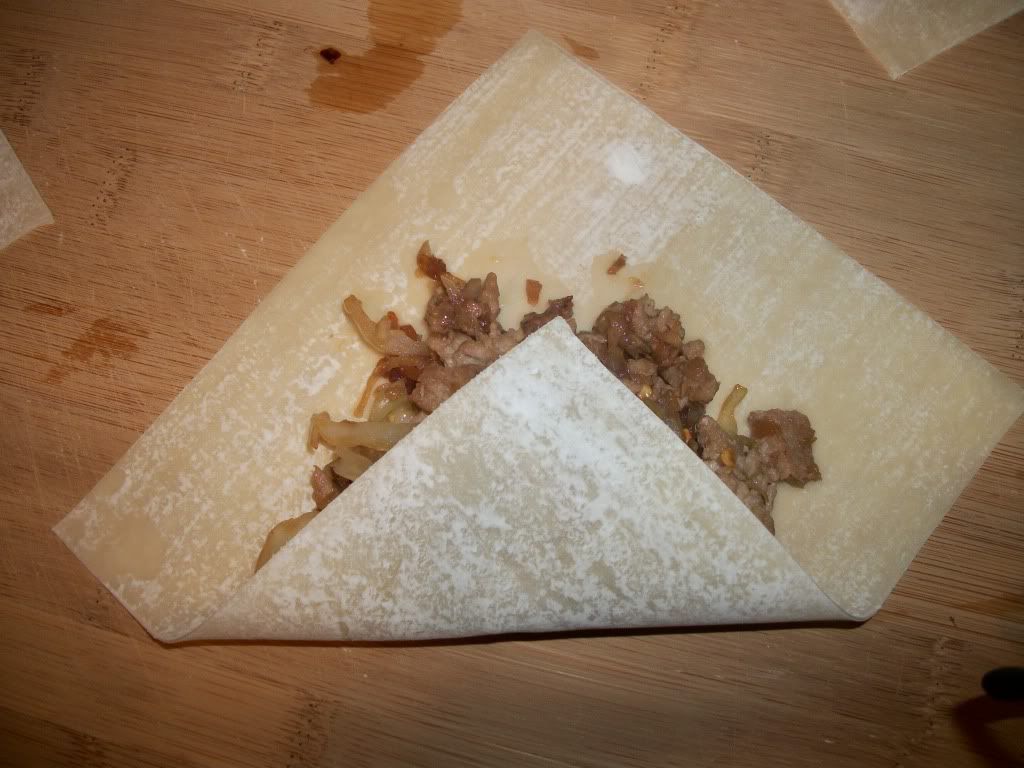 6. Fold up from the bottom.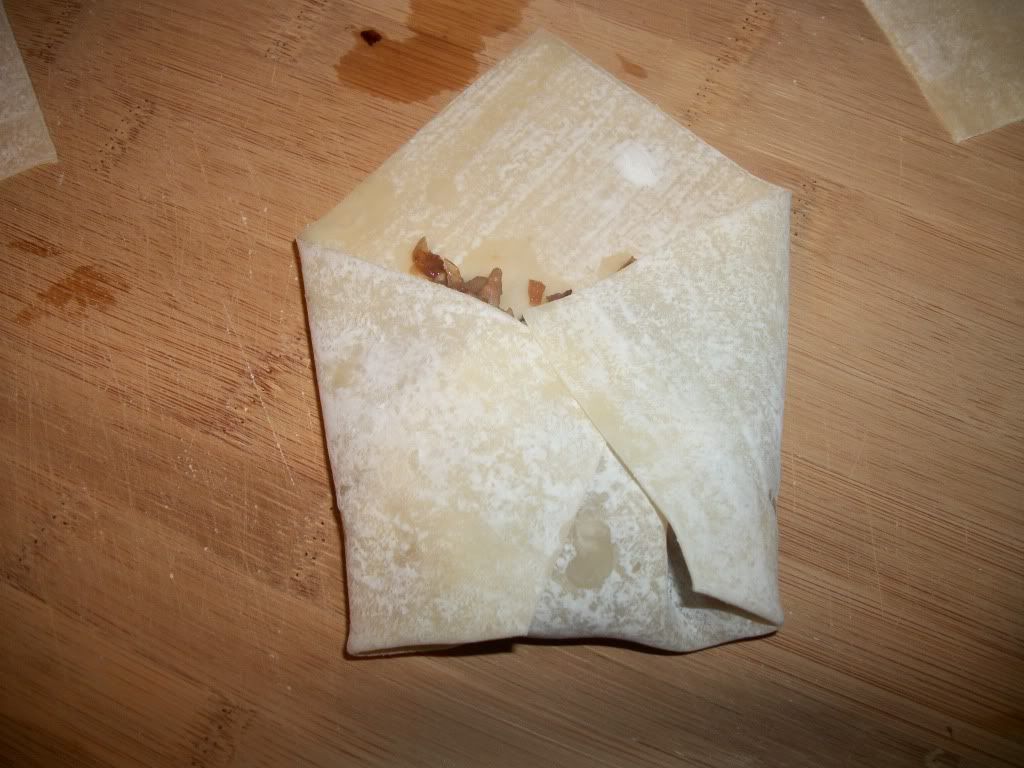 7. Then fold in the sides.
8. Roll up once, making sure to tuck everything in. Then dip your finger in a little water and run along the triangle point. Then fold the point down. The water will help to seal the egg rolls.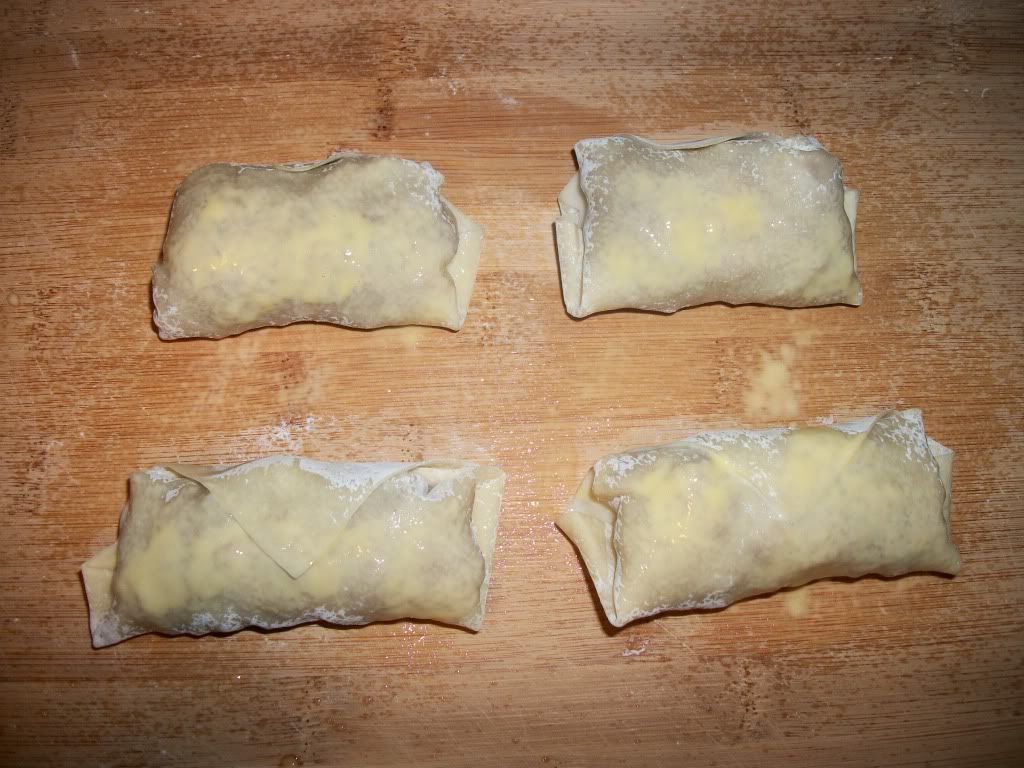 9. I then sprayed the egg rolls with spray butter and baked at 350 for 15 mins (or until brown).
Fried Rice
To make the friend rice
I cooked 1 cup of dry brown rice and when it was done, I added it to a hot skillet with:
Dash of sesame oil
Steamed broccoli
handful of coleslaw mix
Dashes of ginger and garlic powder
~2 Tablespoons soy sauce
1 egg
I believe I cooked it for about 2 - 3 minutes and then served along with two egg rolls per serving and some sweet and sour sauce.
There are so many fun things you can do with egg roll wrappers and I can't wait to share more ideas with you. If you have any fun recipes using egg roll wrappers, please share!