A few weeks ago I watched this show on The Cooking Channel called Pizza Outside the Box. This show featured fun and different pizzas from around the country. One of the pizzas that I totally wanted to try came from North Carolina. It was a Buffalo Chicken Pizza, and it actually came from a food truck.
It seemed really simple to make, and who doesn't love Buffalo Chicken! I ended up making a personal sized pizza last week just so I could try it out, and it was very tastey.
Buffalo Chicken Pizza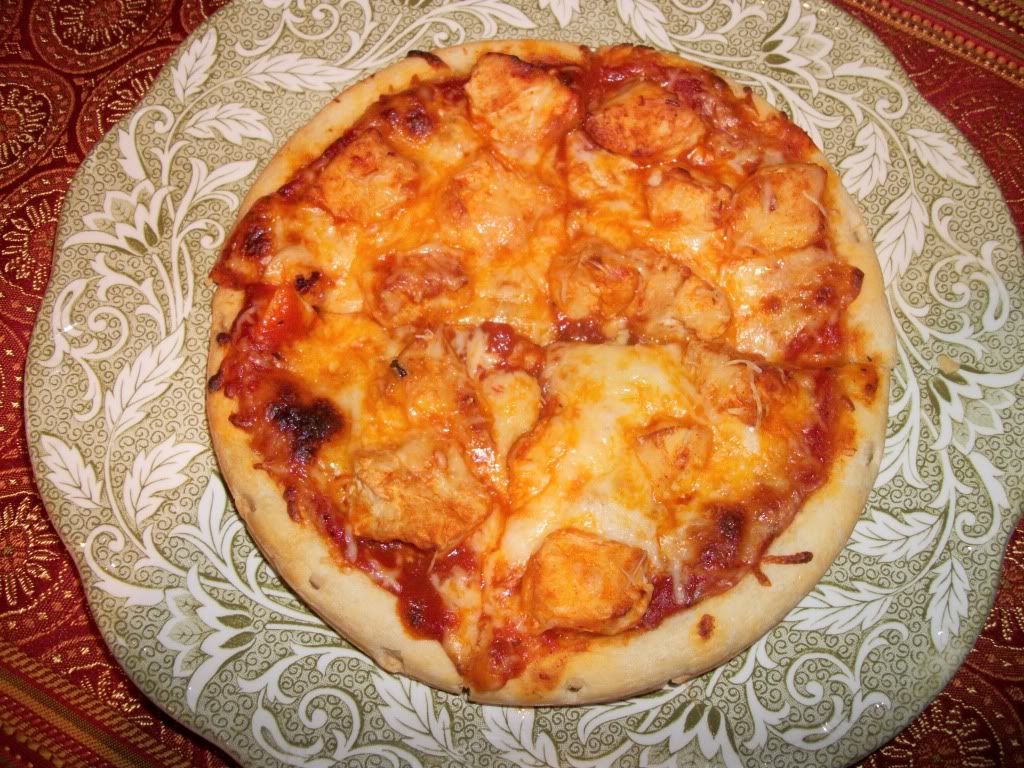 Ingredients:
-- Pizza crust (I used a premade crust)
-- Olive oil
-- Pizza sauce
-- Buffalo hot sauce
-- Mozzarella cheese
-- Chicken cut into cubes
**Please note that I am not including exact measurements because it will vary depending on the size of pizza you are making.
Directions:
Spray or brush some olive oil onto the crust. Then pour some pizza sauce into a bowl and mix about 1 tablespoon (or more if you like it hot) of buffalo hot sauce in with the pizza sauce. I used 1 tablespoon for a personal pizza size. You may want to use 2 or 3 tablespoons if you are making a larger pizza. Start with 1 tablespoon and then taste it to see if you want to add more. I would just add a little bit at a time.
Spread the pizza sauce on the pizza and then cover with mozzarella cheese.
I then browned some chicken in a pan over medium heat. You want to pretty much cook the chicken all the way through. At the very end I mixed 1 teaspoon of buffalo hot sauce in with the chicken just to coat it. Again, if you are making a larger pizza you may want to add more.
Then add the chicken to the top of the pizza and bake according to your pizza crust's directions. I didn't make mine too spicy, but you can always make it more or less hot depending on how you can handle the heat! The buffalo sauce was a perfect combination with the pizza sauce and the mozzarella cheese helped to bring down the heat a little. Very delish!!