This recipe was in the October 2011 issue of Everyday Food and the original recipe called for butternut squash and also escarole. I used half of an acorn squash, and did not include the escarole and it was still very delish!
This pasta uses a brown butter sauce, and really who can go wrong with a brown butter sauce...no one! It was so buttery and the acorn squash really helped to fill you up. I also included some ricotta cheese and some parmesan cheese which just helped to make everything very creamy.
Spaghetti with Acorn Squash
October 2011 Everyday Food
**Please note I am including my version of this recipe. I did halve the recipe and got 2 servings, but I'll include the full recipe for 4 servings.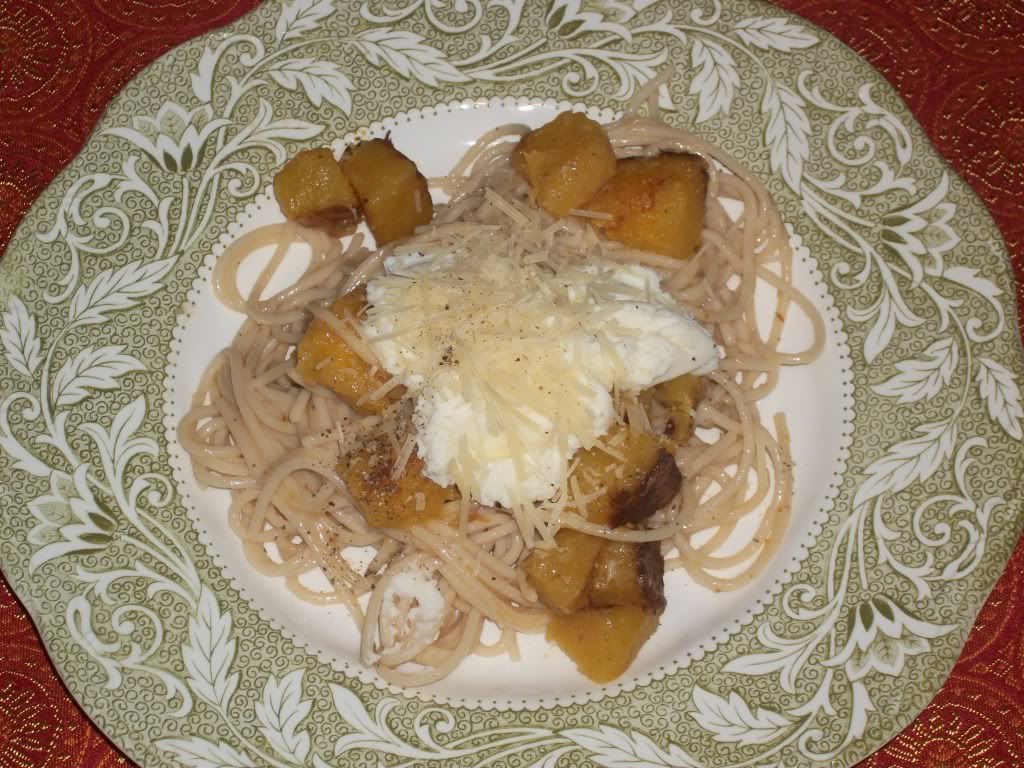 Ingredients:
-- coarse salt and ground pepper
-- 1 medium acorn squash, peeled and cut into 1/2 inch pieces
-- 1 pound of spaghetti
-- 6 tbs unsalted butter
-- 7 oz ricotta (3/4 cup)
-- Parmesan cheese, sprinkle however much you want on top before serving
Directions:
In a large pot of boiling salted water, cook squash until crisp tender, about 3 mins. With a slotted spoon, transfer to a colandar to drain.
Return water to a boil. Add pasta and cook according to package directions. Reserve 1/2 cup pasta water, drain pasta and return to pot.
In a large nonstick skillet, heat 2 tbs butter over medium-high heat. Add squash and cook, stirring occasionally, until lightly browned in spots and tender when pierced with a knife, about 8 mins. Add to pot with pasta.
To skillet, add 4 tbs butter and cook, swirling skillet occasionally until butter is lightly browned and has a nutty aroma, about 1 min.
Drizzle over pasta and toss to combine, adding enough pasta water to create a light sauce. Season with salt and pepper and transfer to a serving dish. Top with ricotta and parmesan cheese.
**Please note I only added the ricotta cheese right before serving. If you are going to have left-overs the next day you may want to hold off adding the ricotta cheese.