This recipe was adapted from
Iowa Girl Eats
and it was so easy and delish! I did make a few substitutions and used the veggies that I prefer and have on-hand. You can always switch out and use whatever veggies you have on-hand or prefer. This took all of 20 mins to make and is for about 2 - 3 servings (you could double the recipe for a family). It does have a little kick to it, but not overly spicy (maybe a little much for kids). I think it would be fun to mix it up and try it with different veggie combinations. Overall it's a dish I can totally see adding to my go-to collection.
Spicy Cashew Chicken Stir Fry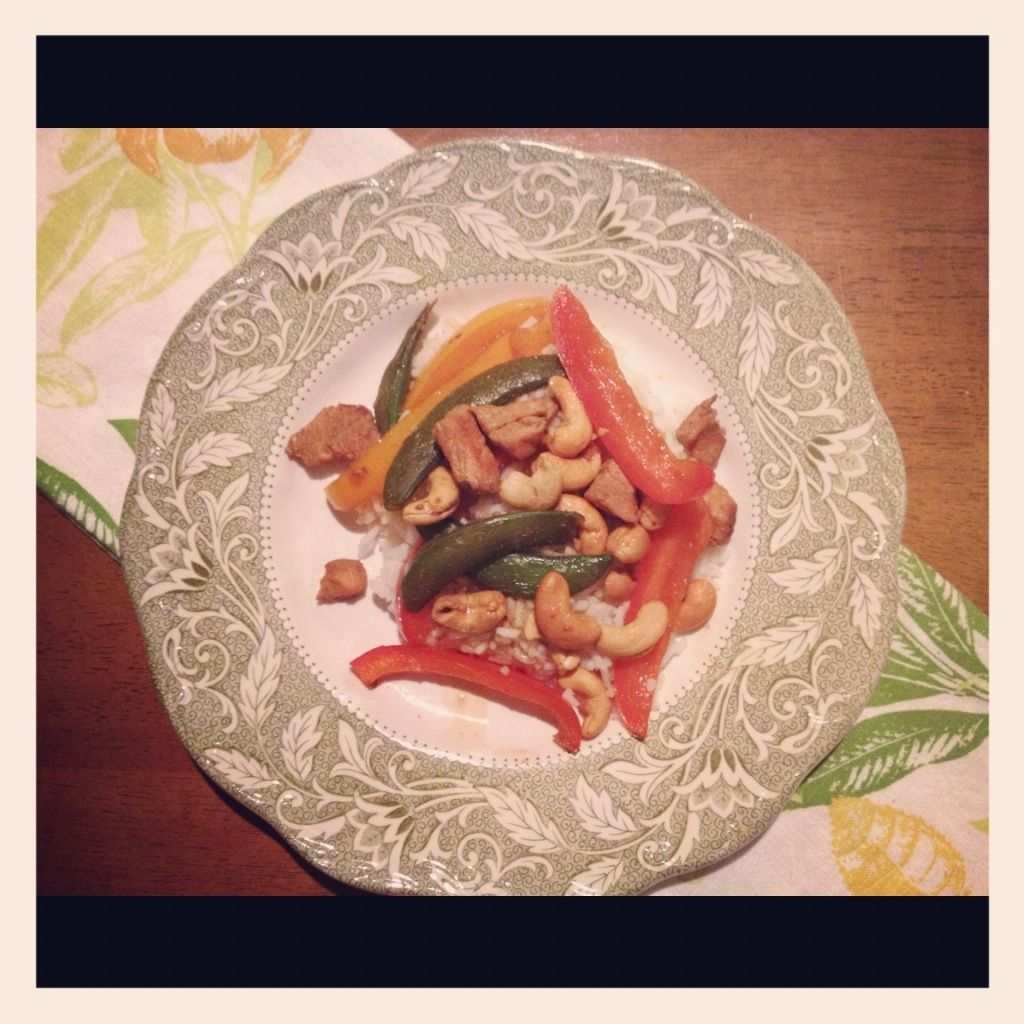 Ingredients:
-- 2 chicken breasts, cut into bite-sized pieces
-- 4 Tablespoons soy sauce, divided
-- black pepper
-- 2/3 cup fat-free, reduced sodium chicken broth
-- 2 Tablespoons brown sugar
-- 1 1/2 Tablespoons Thai chili garlic sauce
-- 4 cloves garlic, minced
-- 2 Tablespoons canola oil, divided
-- snap peas (I used half a bag of frozen snap peas)
-- bell peppers (I used half of a yellow and half of a red bell pepper)
-- cashews (handfull or however many you would like
-- 1 cup uncooked long grain white rice, cooked according to package directions
Directions:
1. Toss together chicken, 1 Tablespoon soy sauce, plus a couple grinds of black pepper in a bowl then set aside. In a separate bowl, combine remaining soy sauce, broth, brown sugar, Thai chili garlic sauce, and garlic. Microwave for 20 seconds in the microwave, then stir and set aside.
2. Heat 1 Tablespoon oil in a large wok or skillet over high heat. Add chicken and cook until no longer pink on the outside, about 2-3 minutes. Add vegetables, and remaining oil if needed, then stir fry for 5-6 minutes or until vegetables are crisp-tender.
3. Add the sauce and cashews to the the wok/skillet, then let sauce bubble for 2 minutes. Serve over cooked white rice.