I absolutely love caprese salads. Fresh mozzarella is one of my favorite cheeses, and pair it with some tomatoes and fresh basil, and I am in love. It's like the perfect summer food!
I saw a couple of similar recipes online a few weeks ago, and wanted to take my spin on it by making this favorite salad into a dinner entree. This recipe is very simple, takes only a few ingredients that you probably already have on-hand, and is very flavorful. I used olive oil, salt, pepper and Italian seasoning to season the chicken. I then baked the chicken, but you could grill it as well. The olive oil helps to keep the chicken moist, and the Italian seasoning gives the chicken a nice fresh flavor. Add on the tomatoes, fresh mozzarella and basil and it's like summer on a plate!
Caprese Chicken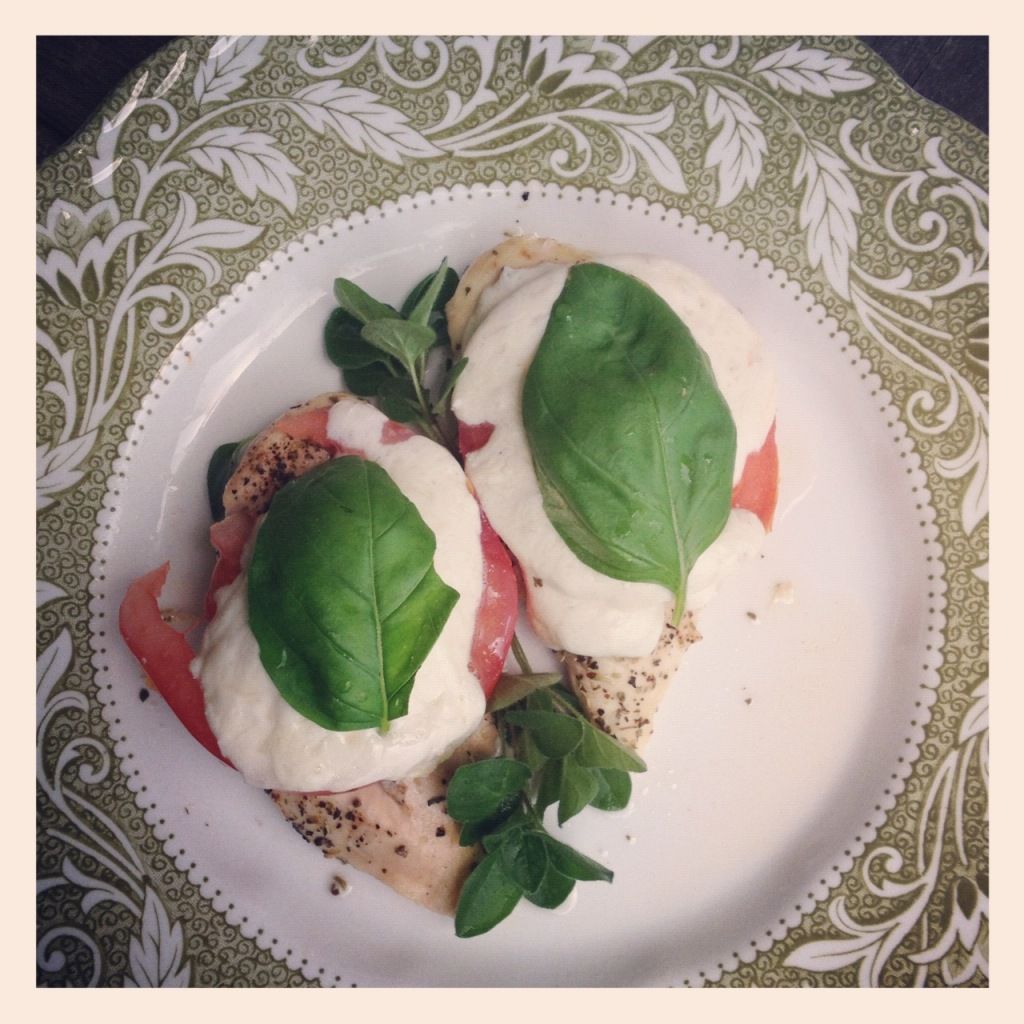 Ingredients:
*Please note that I don't have exact measurements because this is such a simple recipe. You can make it for 1 person, or a family of 4. Just determine how much chicken you will need for each person.
-- Chicken breasts (I used chicken tenders, so I used 2 per serving)
-- Olive oil
-- Salt and pepper to taste
-- Italian seasoning to taste
-- Tomatoes (1-2 slices per piece of chicken)
-- Fresh mozzarella (1-2 med slices per piece of chicken)
-- Basil leaves (1-2 large leafs per piece of chicken)
Directions:
Pour a small amount of olive oil over the chicken breast to coat. Sprinkle each side with salt, pepper and Italian seasoning to taste. Bake in the oven at 350 for 20 - 25 mins (depending on the size of your chicken breast). You could also grill your chicken if you preferred.
Once completely cooked, place your chicken on a plate and layer with tomatoes and fresh mozzarella. You can then place back into the oven under the broiler for a few mins to let the fresh mozzarella to melt just slightly. Then before serving place a few large basil leaves on top of the chicken and enjoy!!