It's Cherry season! If you haven't picked up some fresh cherries at the market I highly suggest you do so now. They are super fresh and at a good price this time of year. Then you can make Pork Chops with Cherry Salsa.
This is a great sweet and savory meal and is super easy to make. I just drizzled some EVOO and sprinkled some salt and pepper on pork chops and then baked in the oven for about 25-30 mins. While the pork chops were baking I whipped up this easy recipe for cherry salsa which took all of maybe 5-8 mins. The hardest part I'll admit was pitting all of the cherries, but even that didn't take too much time. AND, you can always snack on some delicious cherries while you are pitting them...bonus! :)
The cherry salsa was super tasty. I wanted to just eat it right from the bowl with a spoon! I think you could do a lot with this cherry salsa, so even if you don't like pork, spoon it over chicken, or use on top of bread for a unique bruschetta. Or it might even be good on beef, the possibilities are endless!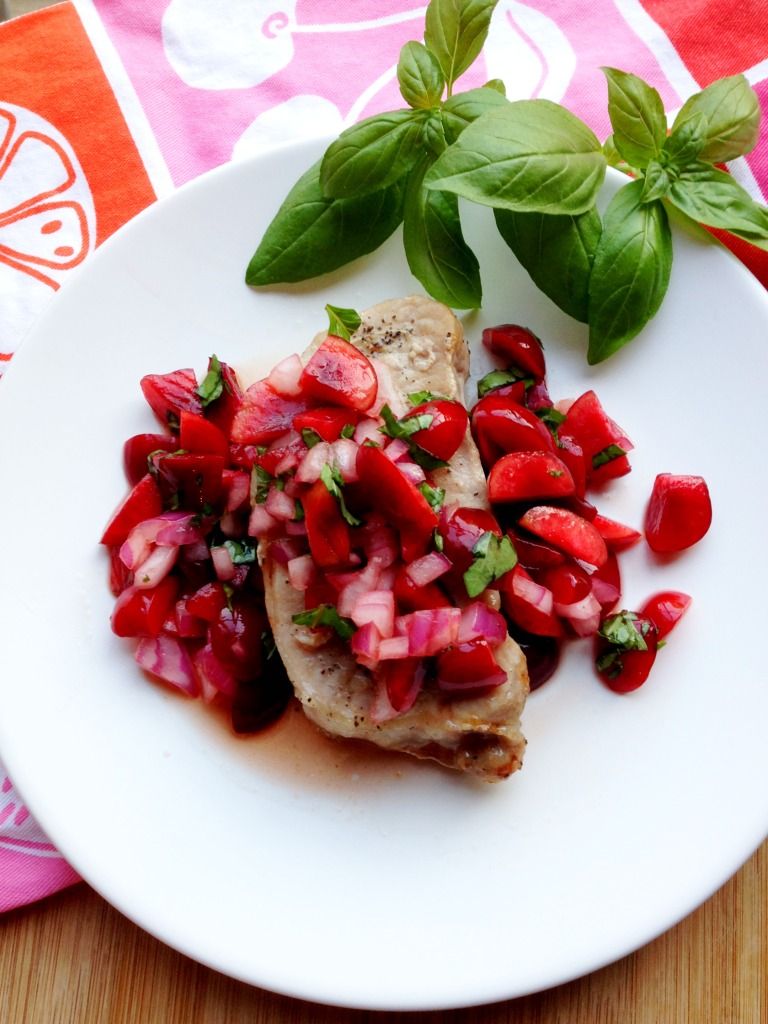 Pork Chops with Cherry Salsa
From
Iowa Girl Eats
Ingredients:
1 lb cherries, pitted & roughly chopped
1/2 cup minced red onion
2 Tablespoons lemon juice
2 Tablespoons chopped fresh basil
1 Tablespoon balsamic vinegar
2 teaspoons honey
1/4 teaspoon salt
4 pork chops (or chicken)
extra virgin olive oil (EVOO)
salt & pepper
Directions:
1. Drizzle some EVOO and sprinkle some salt and pepper on both sides of the pork chops. Bake at 375 for 25 - 30 mins.
2. While the pork chops are baking, mix up your salsa. Combine cherries, red onion, lemon juice, basil, balsamic vinegar, honey, and salt in a bowl. Place into the refrigerator until ready.
3. Let the pork chops rest for 5 minutes before topping with fresh cherry salsa.
4. Enjoy!
I could actually eat this salsa straight out of this bowl, and I might have done just that! :)