One of my newest favorite cooking shows on the Food Network is
Home for Dinner with Jamie Deen
. I have always loved Paula Deen, and even went to her restaurant Lady and Son's in Savannah. When I heard her son Jamie had a new show I just had to check it out. By the way her other son Bobby also has a show on The Cooking Channel called
Not My Momma's Meals
, which I love as well!
What I love most about the Home for Dinner show though is that the recipes are delicious, but they are also very simple and easy to prepare. The whole basis of the show is that you can cook great home-cooked meals for your family, even if you are a busy Mom or Dad or whoever.
Last weekend Jamie cooked a simple Bow Tie Pasta salad, and it inspired me to use my favorite veggies to cook up something similar. I used carrots, broccoli and a red bell pepper. I also used gluten-free pasta and I ended up doubling the dressing (although my recipe below is NOT doubled) because the next day my pasta had really soaked up the dressing. Not sure if that had anything to do with using rice pasta or not, but just something to keep in mind; you can always whip up extra dressing to add later and it's easier to add more than to take away.
Also, I realized after I had started cooking the pasta that I did not have red wine vinegar. I found an easy substitution online that worked for me. You just mix 1 Tbs red wine with 3 Tbs apple cider vinegar for every 4 Tbs of red wine vinegar. Worked like a charm. Oh and then I was forced to drink red wine...boo for me right! :)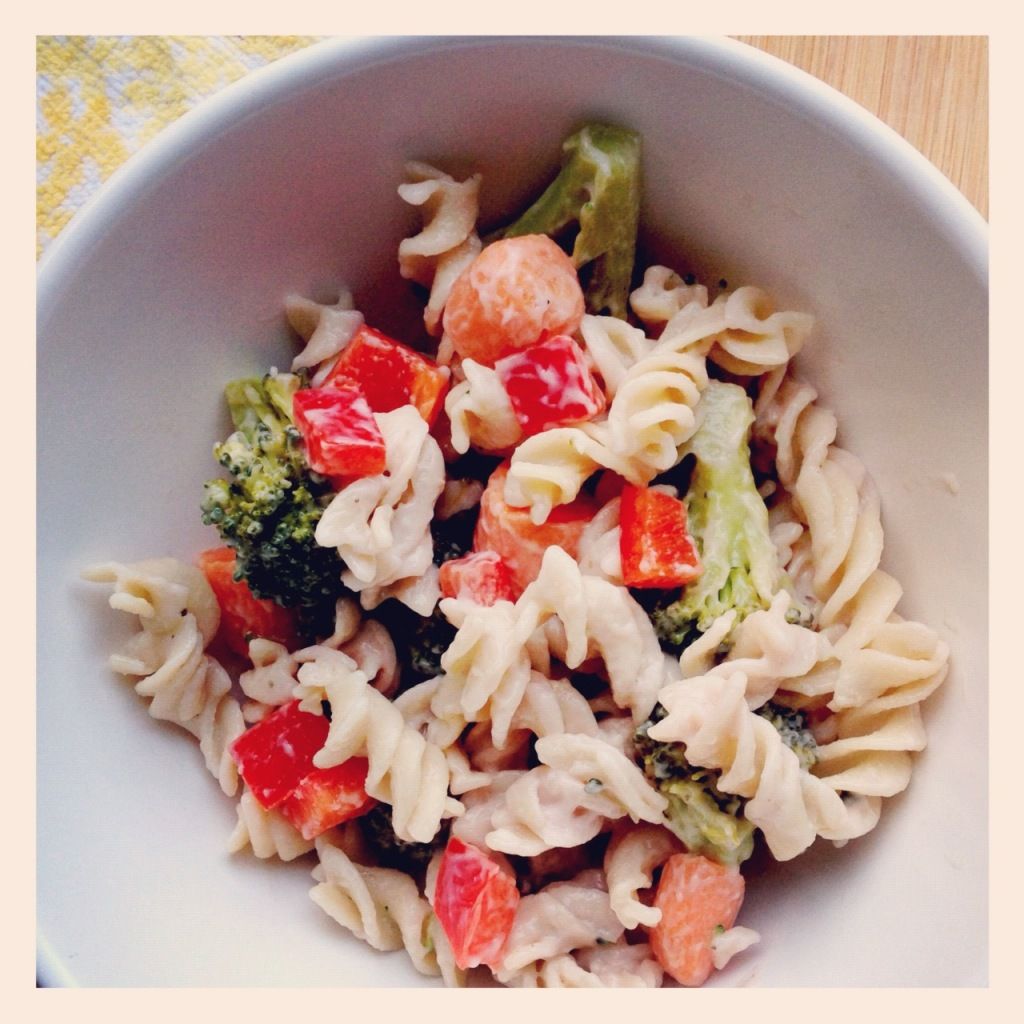 Veggie Pasta Salad
Ingredients:
1 pound pasta of your choice (I used rice pasta)
Kosher salt
2 carrots, sliced into 1/2-inch chunks (I used half a bag of baby carrots and cut them into 3 pieces)
One 12-ounce broccoli crown, cut into bite-size florets
1 diced red bell pepper
3 tablespoons olive oil
2 tablespoons red wine vinegar
1/3 cup mayonnaise (I used light)
1 teaspoon sugar
1 large clove garlic, minced
Freshly ground black pepper
Directions:
Add the pasta to a large pot of boiling salted water. Set a timer and cook the pasta for 3 minutes less than it says on the back of the box. When the timer goes off, add the carrots and cook for 2 minutes longer. Next add the broccoli, and continue boiling for 1 more minute. Drain the pasta and veggies in a colander in the sink. Rinse well under cold water to stop the cooking. Make sure to drain off all the liquid. Add the pasta mixture to the large bowl along with red peppers.
In a small bowl, whisk together the oil and vinegar. Then whisk in the mayonnaise, sugar, garlic and some salt and pepper. Add the dressing to the salad and toss well. Serve immediately, or cover with plastic wrap and chill for 2 hours before serving. It's actually better if you chill first so that you aren't eating warm pasta salad. Enjoy!